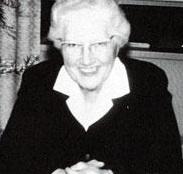 When Dorothy Priestly arrived in Prince Rupert with her new Diploma in Public Health Nursing in 1937 she probably could not have imagined the changes that would occur during her time there. She was hired as the first "School Nurse" in the area by the Prince Rupert School Board and the Provincial Board of Health, though her duties took her far beyond the schools.
She had been a hospital supervisor prior to going to UBC for her Public Health course, and her organizational skills are evident in her first Annual Report for the Prince Rupert Public Health Nursing Service in 1938. Not only is the report extremely detailed and well written, it also reveals an astonishing amount of work by this one woman. In that year she examined 2058 school children, made 825 home visits, weighed and measured another 1847 children, and did 1530 "eye and ear tests". With admirable restraint, she wrote, "It is hoped that in the near future the nurse will be better equipped to serve the community by being supplied with a car, as much time is being lost walking between schools and in visiting from Seal Cove to Westview." (Annual Report 1938, p. 6) To put this into perspective, the distance would be approximately seven kilometres, involving walking up and down hills, often in very rainy and/or windy kri and at certain times, very slippery conditions, carrying the equipment she needed to do her job.
Nevertheless, she stayed in Prince Rupert for about five years, during which time World War II broke out. The population almost tripled between 1940 and 1942, with construction workers building a new port, and members of all the armed forces being stationed there. This of course resulted in all manner of health and social problems. Despite that, no-one replaced Dorothy in 1941 when she was ill for several months and "no work was done" during that time.
In 1942 Dorothy left for Chilliwack. Her dedication to Public Health Nursing was clearly strong, as there is a record of her applying to become a member of the American Public Health Association in 1943, and that year she also joined the newly formed Public Health Nursing Council, representing 16 PHNs in the Fraser Valley. She became President for two years starting in 1947, the same year she was the first Public Health Nursing Supervisor to be appointed in the province, in Central Vancouver Island Health Unit. She supervised 11 PHNs in six centres, and continued in this work until her retirement in 1965.
"She was noted as a competent supervisor and gracious lady. Her influence was such that many of her young public health nurses eventually went on to senior and supervisory positions. She also made an outstanding contribution in helping to design health centres which would make the work of the public health nurses efficient and convenient for the public." (Green, p. 86)
E. Dorothy Priestly died on March 3, 1988, in Nanaimo.
References: Green, Monica M. (1984) Through the Years with Public Health Nursing: A history of public health nursing in the provincial jurisdiction British Columbia. Ottawa: Canadian Public Health Association
Priestly, E.D. (1938). Public Health Nursing Service: Prince Rupert, B.C., 1938 Report. Prince Rupert, BC.
**Photograph reproduced from Green, p. 85, by permission from Canadian Public Health Association.
Written by Carol Harrison, BSN, MSc, RN, BC History of Nursing Society October 5, 2010