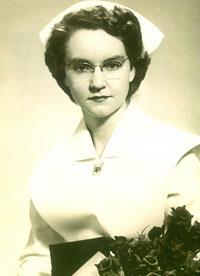 Grace Adamson was born in Bassano, Alberta in 1927, to Gladys's and Andrew Stewart. Educational achievement was encouraged by her parents who valued the increasing academic opportunities afforded women. In 1950, Grace graduated from Vancouver General Hospital School of Nursing and then received a BSN at UBC in 1951. She became an educator in Nursing Arts at Vancouver General Hospital the same year; Grace enjoyed teaching and mentoring the young students who pursued their nursing dream. Nicknamed 'Torchy,' for her fiery red hair, Grace had a wonderfully vibrant and outgoing personality filled with humour and fun. As an invigilator for the RN exams she told countless stories and jokes over the years to nursing candidates. Waiting for their exams to begin was always a tedious time and Grace knew how to ease students fears through laughter.
Grace exemplified helping and giving to others throughout her life – that was who she was as a person. She embraced the values of – empathy, selfless compassion, care, acceptance, and inclusion to those who needed her help in her work. She was sensitized to the issues of social justice and the dire and tragic life circumstances of those patients she meet during her VON nursing in Vancouver's downtown eastside in the 1950's. She treated all people with respect and dignity regardless of their plight.
Grace eventually married and become devoted to family throughout her life. After her nursing career, she continued to pursue her passion for helping as a volunteer with several organizations- the Salvation Army (Red Shield Appeal), the Westbrook Society, and the Ladies Oriental Shrine of North America. As well, she became involved in compiling and writing the VGH Alumnae newsletter that reported on the yearly happenings of the nursing graduates who corresponded with her. Grace's organizational talents shined during her forty year stint (1952- 1992) as co-editor, and then as editor. She also kept her VGH classmates a tightly knit group over the years. There were many wonderful memories of Grace as a unique and comical nursing student. She was a wonderful person to those privileged to have Grace as their friend.
In 1992, following her sudden passing, the Grace Torchy Stewart Adamson Memorial Scholarship was established by family, friends, and colleagues to honour her dedication to nursing education. To date there have been over fifteen recipients each exemplifying academic excellence and practical experience in various areas of the discipline. A recent beneficiary named her daughter Lola Grace in gratitude for the award and the impact it had on her educational goal. Janet Adamson expressed the feelings of their family in saying, "we felt truly touched and honoured by this most wonderful gift. It exemplifies the impact this endowment has on the lives of its recipients."
Grace Adamson wasn't a cherished friend or colleague; she was my mother, a wonderful person with a generous and giving heart that touched the lives of those who knew and loved her. Her wisdom of perspective and principle has shaped the core values of my personhood, that is, who I have become for myself and others. I embrace difference in people's lifestyles and viewpoints as well as acknowledge the oppressions of structural marginalization that oppress so many people. My goal is to care in ways that advocate for social justice, change, and transformation. This is just one of the lifelong goals my mother taught me growing up and to which I hold so close today.
Grace Adamson embraced nursing as a way of life and inspired others to pursue their education, achieve their goals and most importantly, to enjoy a laugh along the way. She will be remembered as a loving mother, a remarkable person, and a dedicated carer of people; a legacy that she left in both her personal life and nursing career.
Story provided by Janet Adamson
Other material provided by the BC History of Nursing Society archives
http://bcnursinghistory.ca/archives/biographical-files