November 2, 1936 – September 3, 2022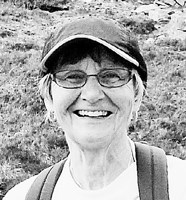 After 85 years of exploring new places, ideas, and activities, Myrla Aileen Kilburn ended a brief and brave battle peacefully, with her daughter at her side. She left behind a world of family, friends, nature, the arts, walking, reading, and ongoing learning, all of which she loved deeply.
We were grateful that Mom's sense of humour, sharp mind, and concern for others were on full display until her very last moments. Mom took the greatest pride in her family: sons, Stephen (Karen), Tom (Irene), Bill (Jennifer); daughter, Susan (Mike); grandchildren, Lantz, Danielle, Damon, Ben, Finn; recent great-granddaughter, River; and, of course, her cats, Charlie and Calli.
Mom also remained proud of her BC family, and her older sister Audrey will miss the phone conversations that kept them connected from afar. Fiercely independent and determined, Myrla ventured from her early life in the small BC town of Enderby to a fulfilling nursing career in Ontario to active travels across Canada and overseas.
She cherished the outdoors, beginning with her childhood cabin on Mabel Lake in the Okanagan Valley, a memory that never left her. This continued throughout her life as she hiked, paddled, cycled, and skied with family and friends.
Myrla found like-minded companions through membership in organizations like Seniors for Nature, Halton Outdoor Club, and the Bruce Trail Conservancy. Friends that spent time with her indoors likely accompanied her to a TSO or Tafelmusik concert, a play at the Stratford or Shaw Festivals, or one of the many courses she attended in her continuous pursuit of learning.
While Mom's life was rich with activity, she also loved quiet moments at home, reading or listening to music, always in the company of one of her beloved cats. Mom's pets were dear to her, and as her health declined one of her concerns was that her two cats found good homes. This was typical of Mom, worrying about her loved ones ahead of herself.
We will miss her greatly.
In remembrance, please consider donations to Bruce Trail Conservancy or an animal or nature charity of your preference. And the next time you enjoy a hike or listen to something beautiful, reflect on the times you spent with Myrla, as she rests peacefully in the nature that she loved.
Published by The Globe and Mail from Sep. 17 to Sep. 21, 2022.