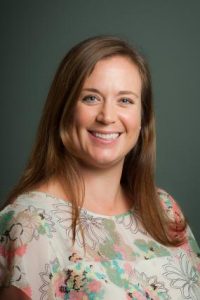 Lynda Balneaves completed her PhD at UBC in 2002 and began working in the School of Nursing immediately as a tenure-track faculty member, having fast-tracked through her BSN, MN, and PhD. Lynda loves research and received outstanding mentorship during her PhD program at UBC, particularly from her former supervisor, Dr. Joan Bottorff. Lynda reflects that the UBC PhD program "pushed" her thinking about theory and the philosophy of science and nursing. Lynda's previous nursing education had been very pragmatic and focused mainly on the practical skills of nursing, so "thinking about thinking" truly expanded her horizons, helping her to understand how knowledge in nursing is created, and taught her how to be reflective and inquiring in her work.
Lynda's undergraduate degree was in science, specifically, Zoology, and as much as she enjoyed it, it took measuring the wing spans of mosquitoes one summer, while working on an acid rain research project, to realize science alone wasn't going to be satisfying enough for her. She wanted a career that promised more interpersonal contact and a chance "to make a difference" in individuals' lives. Also, a family member's illness and regular hospitalization during her BSc gave Lynda a chance to observe nurses at work and recognize their autonomy and very specialized disciplinary knowledge. Lynda also valued the incredible flexibility and variety in nurses' work and realized that nursing could offer her many diverse opportunities as a profession.
Lynda came to UBC for her PhD because she loved the city of Vancouver, but more importantly, because the scholarly expertise she wanted was here. Both Drs. Sally Thorne and Joan Bottorff had expertise and active research programs in the area of cancer research. This was the field she had already worked in during her MN and what she wanted to pursue academically, with a specific focus on the role of complementary and alternative medicine (CAM) in cancer care. Lynda completed her PhD from 1996-2002, while also expanding her interprofessional teaching skills as a teaching assistant in the SON and as a Tutor in the UBC Medical Program. She also had a chance to hone her research skills by working on numerous research studies as a graduate research assistant and project director throughout her PhD program.
Lynda is passionate about research because she "…loves asking questions, exploring the unknown, and because every day in research is different – you are always creating new knowledge, you have autonomy, and you get to follow your interests!" Taken together, all of these characteristics of research make for a very flexible and rewarding career. Lynda shares her enthusiasm for research by teaching the Critical Inquiry and Evidence-Based Practice courses to undergraduate and Master's students, where she hopes to convey the message that, "You can't provide excellent nursing care without research and the evidence it provides."
In terms of her research accomplishments, Lynda is most proud of the Complementary Medicine Education and Outcomes (CAMEO) research program, which is focused on developing evidence-based education and decision support interventions to help cancer patients and their families make safe and informed decisions about CAM. She sees this program as a way of building a bridge between clinical practice and research and addressing an important gap in cancer care. She is an Affiliate Nurse Scientist at the BC Cancer Agency (BCCA) and has made alliances with nursing colleagues, like Tracy Truant who is the Regional Professional Practice Leader, Nursing at the BCCA (and another UBC alumni), which enables her to move programs, such as CAMEO, forward in clinical settings. The mission of the CAMEO project is to have every patient who comes through the door at the BCCA assessed for CAM use, have an opportunity to ask questions about CAM, and have those questions addressed, based on current evidence. In so doing, it is hoped that patients receive the best possible care and advice regarding how to safely use CAM as part of their cancer journey.
At the end of the day, Lynda says she "works hard and plays hard." She is very physically active, loving sports of all kinds. She has currently begun taking a Tae Kwon Do class, partly because skiing is over for the season! She has also been active in competitive dragon boat racing, having competed nationally until she hurt her back, still coming in 5th! She loves cross country skiing, reading, going to live music events, working out, and spending time with her family and friends. "I have a very full life!"